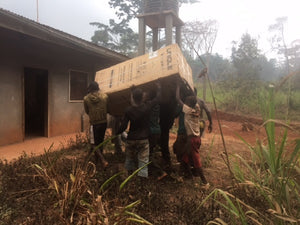 UGP-10c LPG Journeyed to Cameroon, West Africa
The journey one of our propane fridges took to arrive in Cameroon among the Baka community. 
Sky Bell, a Missionary with World Team among the Baka community, reached out to Canadian Off Grid Depot in search of a propane refrigerator for her home. Sky started the Baka Literacy program, devoting her time to educating the Baka community.  Here is the link to her program (https://bakaliteracy.com/home-accueil)
The fridge started in Ontario, where it was shipped to the White Cross in Edmonton. From here the unit was loaded with other much needed supplies into a Sea Container destined for West Africa. After 5 months of traveling the fridge finally made it to Sky and the village she is residing in. Sky is beyond excited to have ice and refrigeration for food preservation.
COGD is very proud to be apart of Sky's project. For more photo's of the journey, please see our Facebook or Instagram page. 
---