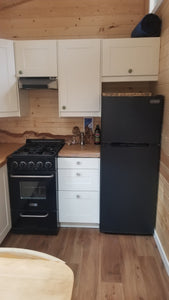 @Tinykootsliving Kitchen in Kamloops, BC
Check out these two beauties! @tinykootsliving paired our UGP-20" Off Grid Range with our UGP-290L 10 cu ft 12/24v Solar Fridge.
They could have installed a propane refrigerator, but decided to save some money and go with a DC powered refrigerator. If you already have solar or plan on expanding your solar set up, a DC powered fridge is the way to go. 12v fridges are generally about half the price of a propane fridge. Propane fridges have their purpose and place, but if you already have solar, the DC powered fridge is the way to go.
They require a very low amount of energy to run. You can even set up a small panel, controler and battery system just for your fridge to keep it seperated from the main solar system that you invert to run all other plug ins. Reach out and ask away. I am here to answer all you questions or concerns. 
---
1 comment