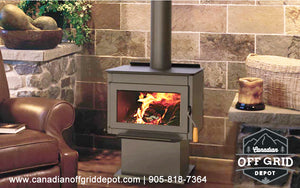 Indoor Wood Burning Stove for Off-Grid Living
Indoor Wood Burning Stove for Off-Grid Living
A high-efficiency, indoor wood-burning stove for off-grid living is an investment that will heat your space for a lifetime. At Canadian Off-Grid Depot, we are a preferred distributor of the IronStrike brand of freestanding wood-burning stoves. Canadian Off-Grid Depot is a distributor of indoor wood-burning stoves. If you require installation services, at this time, we can suggest a WETT-certified installer.
Benefits of a Wood-Burning Stove 
The benefits of a freestanding wood-burning stove are immediate once you've settled into your space on a cold winter's night. Clean energy is a must for most off-grid areas, and a wood-burning stove creates optimal heat distribution while maintaining clean air within the space.
A wood-burning stove offers independence from electricity, can encourage cost savings where wood is abundant, and increases the comfort of your living spaces. A modern wood-burning stove allows maximum heating efficiency while keeping particle emissions at all-time lows.
One indoor wood-burning stove is all an off-grid home usually requires to keep the space warm through the harshest Canadian winters. Any off-grid enthusiast knows that radiant heat from a wood stove warms an area faster and more efficiently than hot air systems can. Radiant heat doesn't move allergens through the space as forced air heating does, and radiant heat creates a uniform warmth. A freestanding, wood-burning stove is noiseless, where even the sound of crackling wood is hidden behind the thick glass door.  A radiant wood-burning stove can operate 25 percent more efficiently than a forced-air system.
Wood stove maintenance is almost non-existent save the occasional sweeping and debris collection and occasionally using a wire brush to scrap the chimney's interior. Installation of your wood-burning stove can be accomplished and ready to heat your space in a day.
The enjoyment of watching a fire from a safe vantage point while experiencing its radiant heat is arguably one of the most highly prized benefits of employing a wood-burning stove in your off-grid space.
Buy a Wood-Burning Stove for Performance
The BTU/HR output and its ability to heat square footage depend on your indoor, freestanding wood-burning stove size. Built with heavy-gauge steel, wood-burning stoves offer dependable and long-lasting operation. Whether a small freestanding stove or large, these stoves should include ceramic glass fronts for optimal, radiant heat transfer and high-density firebrick liners that retain heat longer, resulting in increased efficiency.
Variable-rate control wood-burning stove models allow you to regulate wood use effectively. This allows less heat to escape the chimney, and the fire burns at longer intervals. Wood-burning stove blower kits are a great way to help distribute the heat for added, balanced comfort and control.
If you're asking: what size freestanding, wood-burning stove would fit my home or cottage application? You need only measure your room/space by width x length x height and enquire at your retailer. Of course, square-foot heating capacities and performance will vary depending upon specific factors like home design and insulation, condition and type of wood used, appliance location, ceiling heights, climate, burn rate, accessories chosen, chimney installation, and how the appliance is operated.
Installing a freestanding wood-burning stove
The freestanding wood-burning stove is placed on the platform with a raised floor of tile or stone. The chimney is mocked up with the heat shield allowing for 12" or more space separating the two. If an exterior fresh air intake is required, a hole is drilled in the exterior wall to allow for that, and a pipe is hooked up to the stove back.
The chimney is then pieced together to connect with the ceiling where the vent exits. If a chimney hasn't already been roughed in or an existing chimney doesn't exist, a hole must be cut into the roof directly below where the new chimney will rise.
If your Canadian wood-burning stove supplier is installing your stove, they will have the necessary piping to vent your stove. A WETT-certified wood-burning stove installer will have the know-how to get your off-grid stove up and running in no time. Your wood-burning stove installation cost depends on the work required for the space where the stove will operate. A new upright, wood-burning stove installation will cost more than a retrofit if the existing heat shield, platform, and chimney rough-in are done.
Purchasing an IronStrike Brand of Indoor Wood-Burning Stove 
The IronStrike wood-burning stove offers clean-burning and reliable heat. Premium-grade materials, superior craftsmanship, and state-of-the-art technology guarantee that every IronStrike wood-burning stove we sell and install will provide you and your family with a lifetime of warmth. Additionally, each stove is customizable, with an array of options to fit your needs.
Canadian Off-Grid Depot specializes in the sales of the IronStrike freestanding wood-burning stove collection.
For the best wood-burning stove supplier in Canada, follow this link.
---