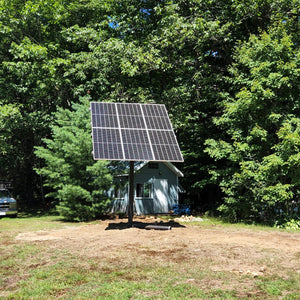 Fast Rack TPM-6 Installed - Bala, Ontario
What if your roof line isn't facing south? Or, the roof is older and you'd prefer not to spend money installing solar, only to remove it down the road to re-roof? 
TPM (top of pole mount) solar racking is a excellent alternative. Especially if you do not have the availability on the ground for a ground mount system or your ground is unable to handle a ground mount system.
TPM's elevate your modules safely up into the air where you can point and angle them for the best exposure. TPM's are available in 2,3,4,6 & 12 modules configurations.
Contact Canadian Off Grid today for more details and availability.
---