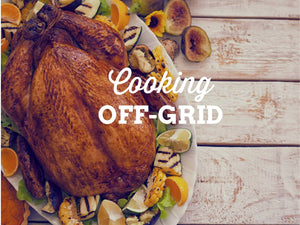 Cooking Off-Grid at the Cottage or Cabin
With Thanksgiving right around the corner for us Canadians, it's a great time to talk about off-grid cooking. Off-grid cottages, cabins, camps, lake houses, and year-round homes have lots of options for off-grid cooking beyond a grate over an open campfire.
Specialized off-grid appliances bring the convenience of the grid to the off-grid lifestyle and allow you to cook at the cottage the same way you do in the city. You can enjoy fall leaves and Thanksgiving dinner with the family at the cottage without giving up oven-roasted turkey with all the fixings. And pie! Don't forget pie.
Cooking with off-grid appliances means either solar or propane power for your range. It's possible to run an electric range on solar power but it requires a very robust solar set-up. The average electric range uses 3,000 watts per hour; that's 12,000 watts just to roast the Thanksgiving turkey and that's not taking into account the lights and other electrical needs running in the cabin at the same time.
A solar system that can meet these requirements is prohibitively expensive for most households. For most people, propane is the power source of choice for off-grid cooking. It's inexpensive, efficient, and isn't dependent on weather conditions or battery storage capacity.
At Canadian Off-Grid, we recommend Unique brand off-grid appliances. They're designed with efficiency and off-grid use in mind and offer a variety of sizes and design options. Even if your cottage kitchen is small, there's a Unique range that will fit your space but still allow you to cook a full-sized meal.
Unique's 24" propane range (UGP-24G OF1) will accommodate a whole turkey while still fitting in a compact kitchen. Like all of Unique's propane ranges, it features a match-less, battery ignition system that runs on a D-cell battery. It's just as easy to start as an on-grid range and has the same types of incremental burner controls as a typical range for exact control of the burner temperature.
If space is really tight, Unique's 20" propane range (UGP-20G OF1) might be the solution for you. This is Unique's smallest range. It provides a cooking experience similar to an on-grid range but with a limited footprint. This model won't fit a whole turkey, but you would have space to roast a turkey breast with the same cooking times as an on-grid range. It features the same battery ignition, easy controls, and sealed burners for easy cleanup as Unique's larger models.
If your kitchen is the ample envy of all the cottages on the rural road, you can opt for a full-sized 30" range (UGP-30G OF1). It's the same size as a typical on-grid range on the smaller end of the spectrum but it's designed with off-grid efficiency in mind and runs on propane. This is our most popular model and comes with Unique's standard suite of features like the battery ignition, sealed burners, and incremental controls.
We tend to think of Labour Day as the end of the cottage season but there are still a lot of beautiful autumn days left for enjoying the outdoors with family and friends. Why not start a new tradition of Thanksgiving at the cottage? The right off-grid setup means no limits in the kitchen even at the cottage!
---