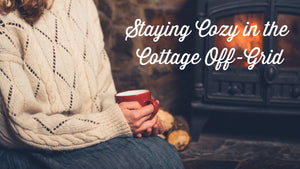 How to Heat Your Off-Grid Cottage or Cabin
With both temperatures and leaves falling, it's time to talk about heating off-grid! Whether you are trying to enjoy a few more weekends at the cottage, cabin, or camp before the snow starts falling or you're planning to be off-grid all winter long, Canadian Off Grid can help you stay warm and cozy off-grid.
While people often think of a wood fireplace as the definitive off-grid heat source, Canadian Off Grid offers several different options for a wide range of needs and circumstances. No matter how big or small your property, the level of sunlight it gets, or how much physical labour you are willing or able to do, there's a system that is right for you and will keep you warm throughout the coldest months. 
Solar Heat Pump
A solar heat pump is a great option because it not only heats in the winter but it also cools in the summer. It's a one-device solution for climate control off-grid. We recommend the EG4 Solar A/C Heat Pump at Canadian Off Grid. It can plug directly into solar panels without the need for an inverter during the day or can draw AC power from storage batteries at night or during overcast days. It's plug-and-play and highly efficient. The operating temperature range is -10 degrees to 58 degrees Celcius, however, so if your property is farther north or especially cold you would need to consider other systems. We carry 12,000 BTU and 24,000 BTU models for smaller or larger spaces. Ryan has one of the larger models in the second floor of his house for cooling in the summer and it was a great addition this year.
Portable A/C and Heat Unit
Another option for both heating and cooling, particularly if your space is on the smaller side, is a portable air conditioning and heating system. Our recommendation is the EcoFlow Wave 2. You can run it off a solar battery or generator and it's installation free and fits anywhere. It provides 5,100 BTUs of cooling and 6,100 BTUs of heating with quiet operation (44 dB). This is a great unit for smaller spaces such as bunkies or RVs.
Propane Wall Heater
If you're only looking for heating, a propane wall heater is a fuss-free way to keep your cottage or cabin nice and toasty. We recommend the Martin direct vent propane wall heaters and we have three sizes, 8,000 BTU, 11,000 BTU, and 20,000 BTU. The medium and large sizes have an optional glass-ceramic window that shows the flame, which makes for a nice aesthetic touch. All three sizes feature a built-in thermostat to regulate the heat dispersion. These are sturdy, well-built units and are a popular option for heating off-grid. 
Wood Stove
If you don't mind getting your hands dirty and you have ample lumber on your property or are willing to buy pre-cut logs, a wood stove might be the right solution for you. We recommend the Drolet Deco Nano wood stove. This non-catalytic wood stove features modern design, higher-than-average height and practical storage space underneath for logs. The bottom of its combustion chamber is extra deep, allowing you to empty the ashes less frequently. It's made in Canada, has a limited lifetime warranty, and is certified for mobile home installation. Ryan's got one of these stoves in his breezeway area and he loves it.
Propane Fireplace
Lastly, if you love the beauty of a wood fireplace but don't want the hassle of moving logs all winter long, a propane fireplace might be the answer. We recommend the Kingsman FDV200s propane fireplace. This beautiful fireplace has a fiber oak log set with glowing embers, heat radiating ceramic glass, and a safety screen barrier. There's an optional remote control so you can turn it off or on from the comfort of your chair or bed. It's approved for installation in bedrooms and mobile homes so you can put it anywhere you want a little coziness. It's a great option for a wood fire appearance without the mess.
If you're not sure what option is the best choice for your situation, Canadian Off Grid can help! Just give us a call or shoot us an email and we'll find the best solution for your unique needs. With so many heating methods available, there's no reason to be chilly off-grid this fall and winter.
---