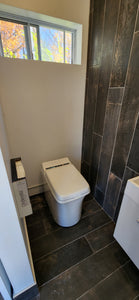 Pool Cabana Incinerating Toilet Install
Do you have a cabana or outdoor structure for your backyard guests? Wouldn't it be convenient if your guests had a bathroom that wasn't located inside your home? If you do not have the ability to tie in to your existing plumbing or your septic, this is an excellent solution. The Cinderella Incinerating toilet can easily be added to your outdoor structure, accessory building, detached garage, pool cabana or backyard bunkie. Two models available. 
The Comfort model requires 240vac at 8 amp. The Freedom model requires a propane connection and either a 12vdc or 120vac with an adapter. 
Looking for more information or to see photos of other installations? Please contact Ryan@canadianoffgriddepot.com
Photo - Pool Cabana installation. Ancaster Ontario
---